Contents
Owned sites
Other sites
Language/sprog
Whitepapers.dk
IT-consultant - master degree level


M.Sc.EE (DTU) - Sun J2EE certified - BEA Weblogic certified - worked as official IBM Global Services / BEA Systems / 7N / ProData consultant...
J2EE consultant - experienced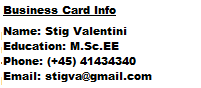 Download whitepapers

Dedicated to make a difference. Check my educational background with a M.Sc.EE - my certifications - my long and broad work experience - my articles - my website on design patterns methods - my latest newsnet postings answers on technical issues - website j2ee.dk related to my core skill. I work evenings and weekends to ensure continued excelence of service.

Because... I'm the J2EE consultant... with emphasis on J2EE... and I'm here to help people!



Definition of the desired to detailed level!


Download word pdf

As a consultant with long university background, I constantly urge to raise the level of quality on projects, where I participate. I try to convince people, J2EE is quite simple and offers huge potential for delivering efficient and reliable solutions.

I often found that projects could greatly benefit from a simple set of extended coding guidelines. Implementing a quality solution need not involve excessive costs or take longer time. It is all a question about getting the job right the first time.

Just because a project uses a guidelines document does mean that everybody needs to read it all the time (same goes for the constitutional laws in a contry). But it's good to have them in any case...
Most important... Know the teknology! Help people!
Part of the full picture is that the quality of the different technologies is always completely depending on the competance used to carry out the actual implementation . You unconditionally have to understand the technology being implemented. Alone the choice of technology will not solve things... One way to understand the technology is to document problems, so the concrete use of the technology is made clear, fx. in general articles as on my site topsecurity.dk.

And remember... have fun... help other people!!! Otherwise what is the purpose of everything...
My other sites